For as long as I can remember myself, music has always been fascinating to me.  I knew from a very young age that I wanted to be a drummer, but that didn't happen until later.
Growing up in an apartment in Rishon LeZion, Israel, it wasn't an option to have a drumset.  So I went through a few other instruments first, mainly keyboard and later violin, when my family moved to St. Louis in the U.S. when I was 8.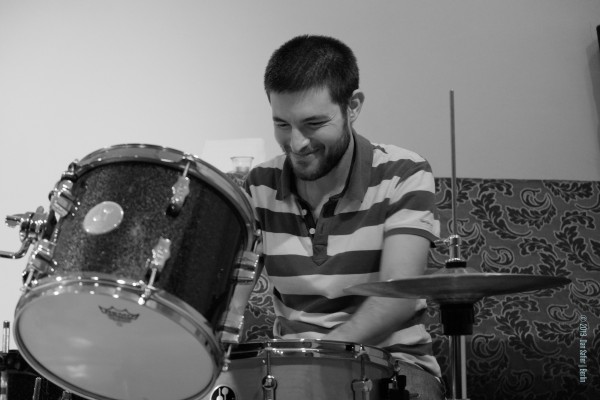 At the age of 12 I was finally able to realize the dream and start playing the drums, just before we moved back to Israel to a relatively small town called Hadera, where I studied with Amnon Yoel.During my early teen years I was able to participate in many different groups playing mainly different kinds of Rock, and as it was, there weren't many drummers in Hadera at the time and I soon became well known in the area. I gained a lot of stage experience during that time.
I gradually became interested in more complex types of music and was exposed to Jazz and Progressive Rock from the 70's, which influenced my musical development very deeply.  At the age of 16, after discovering the concept of "Music Theory", it was clear to me that I will go study composition at the music academy.  I took up piano lessons and started preparing myself for the task at hand.  Parallel to this, I started studying with Shay Zelman.
My high school years were accompanied by interesting musical experiences and the growing acclaim as a versatile drummer and musician.After serving a year in Civil Service in Israel I spent another year in preparations and then entered the Academy of Music and Dance in Jerusalem to study classical composition. During the 4 years of studies under Prof. Michael Wolpe I continued to be active as a drummer and expanded my horizons in the field of New Music.
During the years 2008-2010 I received support from the America-Israel Culture Fund as a drummer.
As a composer I received first prize in the Chana Yador-Avny Composition Competition of 2008 for a Percussion Duet called "Affar", and in 2007 first prize in the Bouzoule festival in Jerusalem for a Piano Quartet called "Milestones".
​
In 2009 I moved to Berlin to reunite with my best friend and see what the city has to offer.  I found a peaceful, new and comfortable place.  I spent my first year solely learning German and started working in a school right after that.
The convenient location and the amount of amazing musicians in Berlin make it a wonderful place to create from and I enjoy taking part in different projects that carry me throughout Europe and beyond.
Above all, I am thankful for having found a passion very early in life.  It is a blessing!